Ok, so I explained in a post a while back that we got our cat, Pippin, in a very nontraditional way (a.k.a. a neighbour drove up on his quad and handed us a box with a kitten in it). Now we have another kitten so here is the story of how we got Petra.
This morning one of our neighbours, who is a friend and speaks English, came and gave us the tiniest little puffball ever. Apparently, one of our neighbour's friends had found four kittens in the river behind their house without a mother. They took in the babies, but they don't really have the money or the space to keep them all, so they were looking for homes for them. Now apparently our mom had known about this for about a week, and had agreed to take a kitten when our neighbour sent her a picture. She somehow managed to keep this a secret and didn't tell her three animal loving children that we were adopting another puffball. The cat is only about three weeks old, way too young to be without a mom. We named her Petra (which is the name of the girl in the Ender's Game book, by Orson Scott Card).
She fits in your hand and meows like she's yelling at you, but it is very hard to take her seriously because she is so tiny. Pippin is scared of her, hopefully he gets over that soon, it would be nice if he would help take care of her. She loves it outside and will toddle around, falling over sometimes. The chickens are also afraid of her, except for the rooster, who usually will run away from anything, he seems to be willing to stand up to the puffball that is scaring his hens. Our little brother loves her, perhaps a little too much, but it's the thought that counts. He has gotten very good at holding her gently, she is so small, she fits in his hands better than any of our other animals (except for the baby chickens that I wrote about here). Pippin is an outside cat, he comes in and out as he pleases (we have a mostly open house), Petra is going to sleep in my room tonight, otherwise she might get eaten by a frog or spider (you think I'm joking, but I'm not).
And now, so you can understand what the hype is about:
And her face is ninety percent eyes: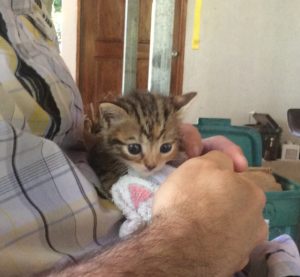 So that is my baby animal story for today, my last one was on baby chickens and my next will probably be about goats.
Hannah